Aziza Amir: Tragic Life of Egypt's First Female Filmmaker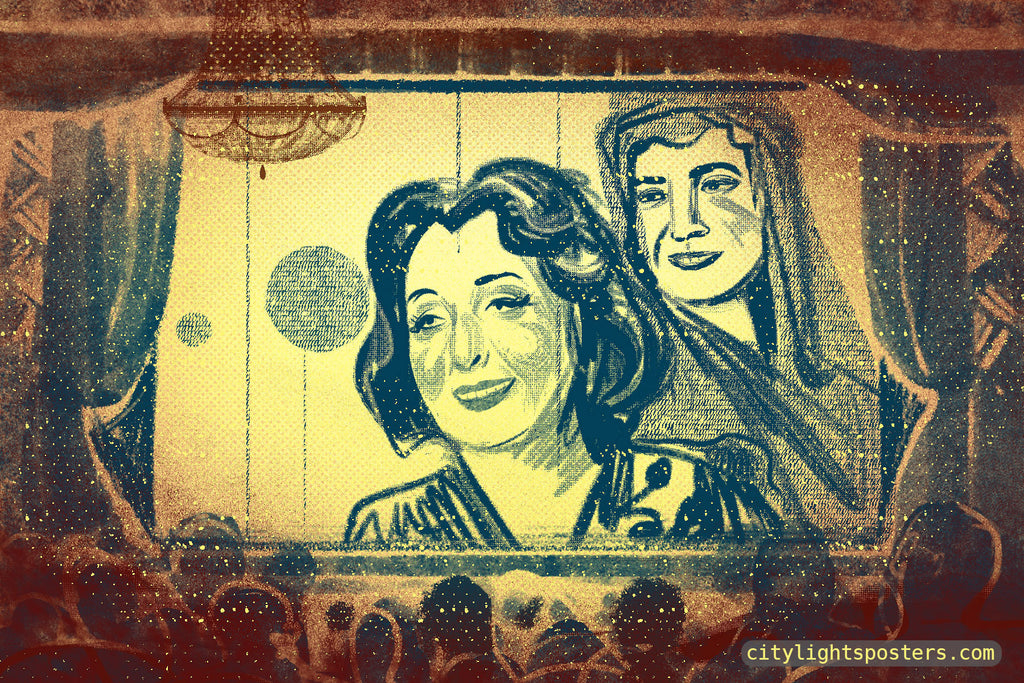 By Tamara Maatouk
Aziza Amir was one of the founding talents of Egyptian cinema, with a career that spanned nearly a quarter-century. As celebrated as she was for her acting and filmmaking career, she was just as notorious for her personal life, which included four marriages and a number of mysterious, yet influential lovers.
Not often does an actor's real life precisely match the drama, pathos, romance and tumult of their most famous roles, however Aziza Amir proved to be an exception in more ways than one. Hers was a life fit not only for tabloid headlines but also the history books, as she blended social daring and a fierce independent streak with a remarkable professional legacy as the acknowledged 'founder of Egyptian cinema.
Mufida Muhammad Ghuneim was born in Alexandria on 17 December 1901 to a poor family originally from Damietta. Her father died tragically just 15 days later and the family moved to Cairo's Khayrat Street, one of Egypt's most vibrant neighborhoods. Deeply affected by the flamboyant environment personally (and later on professionally), Mufida developed a love for the arts. When she was not imitating international actresses in front of mirrors or to the delight of her siblings, she roamed the streets looking for shops to buy pictures of her favorite performers.
Mufida cultivated an air of mystery around the first two decades of her life. Her penchant for attaching herself to influential men led to scandalous claims; others assert she was secretly married to an important Egyptian politician.[1] Always refusing to confirm or deny, Mufida's silence regarding her first marriage is enchantingly coy.
Her professional career began with a daring fib: in response to a call for auditions by Yusuf Wahbi, the founder of Ramsis Theatre troupe, Mufida pretended to be an affluent upper-class girl.[2] (Perhaps THIS was her first professional role!) Mufida admitted to Wahbi she was stealing from 'the man who was taking care of her' Elie Der'ie, a prominent stock-broker in his sixties whose name was often associated with aspiring young actresses. Der'ie used to openly introduce Mufida as his mistress[3] and, according to Mufida, denied her wish of becoming an actress, which compelled her to leave him.
How she finagled her debut role is likewise mysterious. What's certain is it was Wahbi who gave her the pseudonym Aziza Amir and made possible her first stage appearance on 25 December 1925: the play Al-Jah al-Muzayyaf (The Fake Status) launched Aziza to stardom. On the strength of that single role, she became the highest paid actress in Egypt, at the unprecedented fee of 30 pounds per month.[4]
Aziza Amir's autograph for Al-Kawakeb Magazine
It was in her role in Napoleonette that she captured the attention of the mayor of Samalout, Ahmad al-Shari'i. "I felt compelled to watch the play repeatedly," al-Shari'i explained. "By the end of that week, I realized it was Aziza whom I wanted to see, and not the play itself."[5]
In February 1927, news of Aziza's marriage to al-Shari'i made headlines. Their nuptials were frowned on by the mayor's conservative family and Aziza found herself the 'star' of another scandal. Both al-Shari'i's social status and continuing threats convinced her to quit her stage career.
Al-Sheri'i's opposition to her profession subsided, replaced by the financial and emotional support that allowed her to launch her cinema career. Isis Film, the Egyptian film company established by the couple, debuted with Leila, the first locally funded and executed Egyptian full-length feature film, which marked the official birth of Egyptian cinema.
The story of Leila's production is a lesson in perseverance and testimony to Aziza's confidence and determination. Initially, no talent was willing to work with her, except a Turkish art director named Widad Orfi, who was primarily attracted to Aziza's fortune.[6] Aziza signed a contract with Orfi to write and direct the film Nida' Allah (God's Call), as well as play the leading role. The contract was a recipe for disaster.
It was also the springboard to one of Aziza's greatest triumphs. After three months of constant bickering, Aziza realized Orfi lacked any real filmmaking talent or credentials. She reduced his contractually guaranteed meal allotment, which comically incited him to report the incident to the police.[7] Nida' Allah was screened for close friends, who cringed through the dreadfully ponderous shots of the desert, the pyramids, and mainly Orfi himself. Friend Muhammad Karim's straightforward advice to Aziza was most telling: "Burn it."[8]
Aziza terminated her contract with Orfi and rebooted the project as Leila, now under the direction of Stephan Rosti, with Italian cameraman Tullio Chiarini. Leila's debut at the Cairo Metropole cinema on 16 November 1927 was a national sensation. Banker Tal'at Harb, who previously advised her to give up on her impossible dream, congratulated her with the words, "You have accomplished what no man has accomplished."[9] There could be no greater or unique a compliment given at that time in Egypt and from that moment, Aziza was dubbed the founder of the nation's cinema.
Leila's financial success attracted the attention of other entrepreneurs who were eager to duplicate Aziza's achievement. Studios were built; companies were funded; films were produced and exported; students were sent to study film abroad. None achieved even a fraction of the acclaim Aziza had. Her encore included the design and production of the Heliopolis studio complex and production of her second film.
Egyptian society was again the focus in Bint al-Nil (The Girl from the Nile, 1929), in which Aziza bravely criticized racist stereotypes that 'Egyptian women were all backward and insolent.' The heroine, an innocent young Egyptian woman, commits suicide by throwing herself into the Nile. The original ending of Leila — as well as 'Amintu bi Allah (I Believe in God) a decade later — also ended in the heroine's death. Did these heartbreaking, gloomy finales reflect a generalized pessimism? More likely, they were a manifestation of her chronic depression, a disorder that forced Aziza to seek clinical treatment on multiple occasions.[10] That tragedy always accompanied triumph was the immutable lesson of her life.
Aziza expanded her regional visibility with foreign films opportunities, including roles in French film The Tunisian Girl in 1931 and Turkish films The Egyptian Author and The Streets of Istanbul in 1932. Her need for these lucrative roles may have been driven by a business stumble: Aziza insisted on producing a silent film, despite the growing dominance of talkies. The film was an embarrassing, very public failure that shattered her finances and professional reputation.
Aziza's relationship with al-Shari'i was the next victim of her unpredictability in 1933, when she ended their marriage. A minor scandal erupted when she subsequently married his younger brother Mustafa – would we expect anything less of such a spirited diva?[11] Subsequently, the 1930s was mostly a lost decade for Aziza: her films were panned by critics and audiences, she lost everything she owned and had to sell her studio. In 1939, Aziza starred in Bayya'et al Touffah (The Apple Seller), where she met her future and last husband, Mahmoud Zulficar: divorce from Mustafa was arranged after Aziza fell head over heels in love with the 23-year-old, handsome actor. Though it was commonly known Zulficar treated her badly sometimes, she always referred to him as the love of her life.[12] Again, happiness for Aziza was always tainted by persistent despair.
Together they established Aziza Film, a partnership that contributed immensely both artistically and commercially to Egyptian cinema. They were pioneers in tackling vital political and controversial issues: Aziza was the first to introduce the Palestinian cause into Arab cinema, first with her film Fatat min Filastin (A Girl from Palestine, 1948), and second with Nadia (1949).[13]
In the early 1950s, Aziza discovered she had a terminal illness. She quit acting and focused on writing the screenplay of Khada'ani Abi (My Father Deceived Me). Her only stated regret was never experiencing motherhood; only a few people knew she was pregnant once, however the baby died within minutes of birth.[14] It perhaps was this remorse that prompted her to take the leading role in 'Amintu bi Allah (I Believe in God), which explored this subject. Aziza, however, did not live to attend the premiere of the film: she died on 28 February 1952.
Considering her immense legacy, it's important to remember Aziza's cinema was never solely a 'female's cinema.' Her work, though it revolved around the lives of Egyptian women, did not reflect feminist themes or promote feminist rights. The image of women in her films was greatly influenced by locally familiar themes and a patriarchal stereotype, which was a forgone feature in a male dominated cinema. Her roles most often embodied strength in the face of sorrow, spiritual persistence and acceptance of what fate brings.
Her professional achievements guarantee that Aziza Amir was, without a doubt, a peerless innovator of Egyptian cinema. Her personal life, lived upon a vast and tumultuous canvas, ensure that as a person she was more dramatic and compelling than any of her roles. Together, they elevate her to iconic status as an Egyptian national treasure.


---
[1] al-Masrah, 31 January 1927.
[2] Ruz al-Yussuf, 8 December 1927.
[3] al-Masrah, 2 May 1927.
[4] al-Masrah, 16 May 1927.
[5] al-Masrah, 2 May 1927.
[6] al-Masrah, 3 January 1927.
[7] Majalat al-Lata'if al-Musawara, 662 (1927). Quoted in al-Ghandour, Sultanat al-Shasha, 74.
[8] Ruz al-Yussuf, 22 December 1927.
[9] Rebecca Hillauer, The Encyclopedia of Arab Women Filmmakers (Cairo: The American University in Cairo Press, 2005), 28.
[10] Aziza was institutionalized more than once. According to her, the first time she had to spend time in a mental hospital was during her eight month visit to Europe. Ruz al-Yussuf, 8 December 1927.
[11] al-Sabah, 355 (1933).
[12] al-Ghandour, Sultanat al-Shasha, 106.
[13] Aziza was the producer of all her films. She played roles in some, wrote scripts for few, and assisted in directing and editing a number of these films.
[14] al-Ghandour, Sultanat al-Shasha, 117.
Subscribe to our newsletter to receive the latest latest blog updates, poster releases, and special offers.
Share this