The Best Friend: the Protagonist's Road to Safety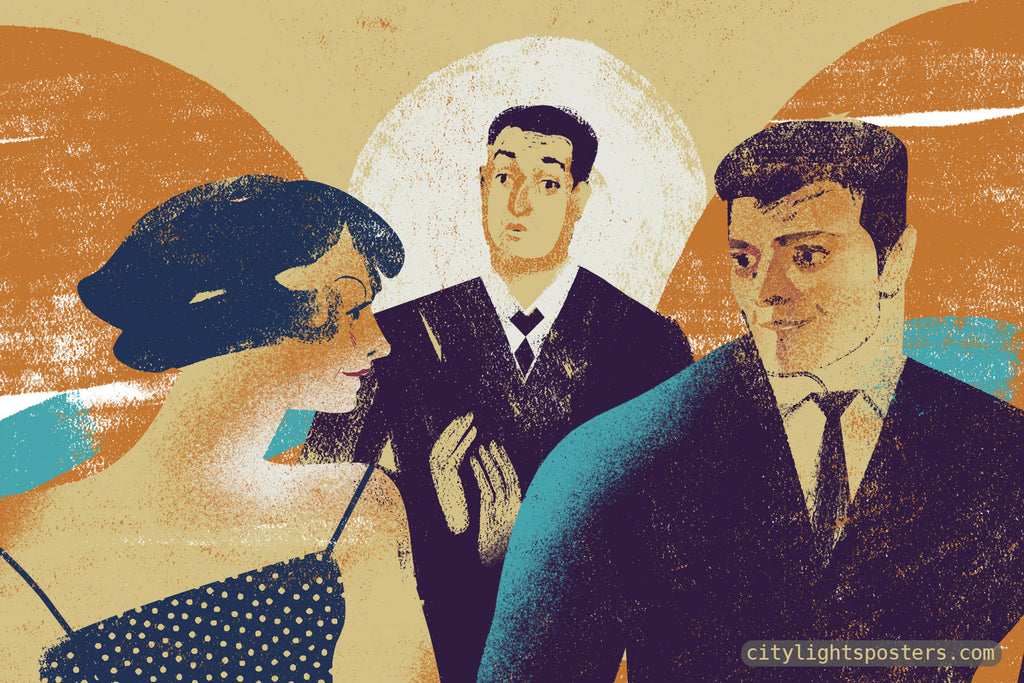 In a chaotic scene, gunfire rings loud in the air, a bullet mistakenly, but fortunately, goes straight through the heart of the femme-fatale, leaving her no chance to resist. The protagonist sees her tossing and turning, calling his name. Indifferently, he leans in to hear her gasping for air as she whispers, "the kid…isn't ..yours". Her corpse rests at the top of the stairs. Seconds later, the protagonist's "best friend" breaks loose from all the bad guys. He emerges in the next room where the two lovers are having an intimate moment. "Have fun!", he cheers. The end.
This is the final scene in My Lover's Mistake (1958). I was a child the first time I watched it, just as I was a child when I first watched most of the classics regardless of their age ratings. Back then, happy endings were the victories we dreamed of as we waited for the world to grow void of evil schemes. They gave us the comfort of knowing that everything turned out fine. They allowed the audience to leave their troubles and worries behind upon leaving the theater, knowing that justice was served and blessings were received. Cinema wouldn't have been so dreamlike if such romantic plots were to ever become real!
Overall, black and white cinema is a cinema of romance, but it is not entirely free of nerve-wrecking, thrilling stressors. There are conflicts, conspiracies, and deceptive women holding grudges. There are songs and dances. There are arm wrestles, chases, and gunfights, villains falling, bodies flailing, and emergency squads coming to the rescue. But in the end, there's always a warm embrace, shared by the two lovers, and there's the best friend bearing witness, and channeling a sense of hope.
To understand the best friend trope in black and white cinema, and how it contributes to plot structure, we must first understand the best friend's character. Back in the 40's, the best friend was a signifier of altruism, always fulfilling the needs of others without expecting anything in return. The best friend's role on screen, and his discourse off screen, is one of social trust. He is readily available and emotionally capable in the face of helpless defeat.
Abdelmoneim Ibrahim (to the right) in the best friend role in Love Rumor (1960). The film stars Omar Sherif and Soad Hosny, in addition to Youssef Wahbi and Hind Rostom.
The best friend is usually a secondary character that does not have an arc throughout the story, he simply emphasizes the ideal values of friendship to create a contrast with an otherwise collapsing moral system. He is able to rise above woes and sorrows, including the torments of love. He's the one to let the light in, when the protagonist finds himself in a dark tunnel.
The best friend's role was also a great fit for musicals, which were widely popular back when Egypt was still a monarchy. This role was remarkably played by Ismail Yassine, Said Abu Bakr, and Shokoko.
Ismail Yassine actually started off his acting career playing "the best friend" before he became a protagonist himself, with sidekicks of his own, including Kamal El-Shinnawi in Ismail Yassine in the Hanuted House (1951), Ahmad Ramzi in Ibn Hamido (1957), and Rushdi Abaza in Fools Are Blessed (1963).
The best friend does not have the leisure of expressing emotions of his own, especially when in the presence of an agonizing Abdulhalim Hafiz, a frustrated Farid Al-Atrash, a highly decent Hussein Sidqi, a very serious Imad Hamdi, or an absolutely charming Kamal El-Shinnawi. The best friend is therefore bound to be supportive and high-spirited; he cannot afford to be sad, anxious, or even pessimistic. But what if the best friend was allowed to express his anger or his bitter disappointment? What if he could act upon his desires without restraint? What if his eyes could give away his feelings? What if his words were allowed to break the silence? What if he could share a kiss with his lover without having it undermined by his clumsiness? If the best friend could have all that, what would  the protagonist have left, besides his charm?
Abdulsalam El-Nabulsi and Abdelhalim Hafez in A Love Story (1959).
These nuanced impulsive aspects of the best friend's character weren't completely missing from '50s films, but they were only granted in the context of a fight over the girl's heart, as was the case with Ahmad Ramzi in Battle at the Port (1956) and Omar El-Hariri in The Olive Branch (1962). Nonetheless, such characteristics are considered outliers to the best friend trope, and exceptions to the best friend's character which is usually stripped of its emotional depth.
However, adding an emotional dimension to the best friend's character often came at the expense of deconstructing the existing character mold and everything that it entailed, including discipline, readily available humor, timeliness, the ability to make amends, and the capacity for lighthearted and comedic quarreling (as famously pulled off by Abdulsalam El-Nabulsi).
Inevitably, this unique combination of traits is not meant to make a lasting impression on other characters in the story, but rather serves to comfort the viewer as they are bombarded with one troubling event after another.
LATE '50S AND EARLY '60S
In cinema, friends are the good guys who give away glimpses of the protagonist's personal life; they come from modest backgrounds, they own very little, they don't always have what they need to offer, but they always think hard about what they need to do. Such secondary characters are often the voice of reason in the scenario, carrying the protagonist safe to shore, away from the turbulent sea of unfortunate dramatic endings.
One of the best actors to deliver the role of the best friend as a voice of consciousness was Abdelmoneim Ibrahim; he successfully walked the line between playing along with the protagonist in his mischievous endeavors, and treading lightly around anything that might be too sinful.
Abdelmoneim Ibrahim and Yehia Chahine in This is Love (1958).
For two decades, Abdelmoneim Ibrahim played more or less the same role in drastically different films, including Youssef Chahine's You Are My Beloved (1957), Hassan El-Imam's Lawahez (1957), Salah Abu Seif's This is Love (1958), Kamal El-Sheikh's My Only Love (1960), Hussein Hilmi's I and My Daughters (1961), and Fateen Abdelwahab's The Thirteenth Wife (1962). Though these directors followed different schools and approaches, they were unified by the icon of Abdelmoneim Ibrahim.
In Egyptian cinema, Abdelmoneim Ibrahim, Abdelsalam El-Nabulsi, and Ismail Yassine were the three actors most famously cast in the role of the best friend; their performances helped shape this role, but were also shaped by it.
In the early '60s, the Zulfikar brothers gave the best friend a fresher, more refined character, by casting Fouad El-Mohandes in that role. Without breaking the stereotype or straying away from the trope, Fouad El-Mohandes brought something new to the character; his performance conveyed charming contrasts. He moved swiftly between extremes, in a way that resembled deadpan satire. He could preach without tediousness. He could offer advice without imposing. His tone could carry both blame and firmness. He could offer consolation while also giving room for sadness to be experienced and processed. These qualities were aligned with the dramatic plot, allowing for open endings filled with possibilities, as was the case in Ezzeldine Zulfikar's River of Love (1960) and The Black Candles (1962), and Mahmoud Zulfikars No Tears (1961), Rendezvous with the Past (1960), and The Disobedient Girl (1963).
Toward the late '60s, black and white cinema gradually died down. This period saw a new face for the best friend: Adel Imam.
In a dynamic duo with Salah Zulfikar, Adel Imam was able to build on the best friend trope, drawing on his own experience in the 1964 play Me, Him, and Her, where he played Dessouqi Afandi, alongside his mentor Fouad El-Mohandes.
Adel Imam in My Wife's Dignity (1967).
Adel Imam later realized that less is more; he rid his character of cliches, and presented himself as an average Joe, he capitalized on the comedic moments, and he brought in enough spontaneity to make it work… and it did indeed.
After all, there's always a way to make it work, or at least that is how it used to be in the golden age of Egyptian cinema.
---
Noor Hisham Alsaif (noorhishamalsaif.com) is a Saudi fine artist with a Bachelor's degree in Art Education from King Saud University in Riyadh. Noor participated in group and solo exhibitions in Saudi Arabia and abroad. Her works capture the complex nature of human and social relations. Noor explores such relations from a cinematic perspective, framing her artworks as film scenes with sophisticated narratives. She portrays bold metaphors, converting them into fantasy worlds that evoke self-images and perceptions.
Subscribe to our newsletter to receive the latest latest blog updates, poster releases, and special offers.
Share this