The Girl Film in Egyptian Cinema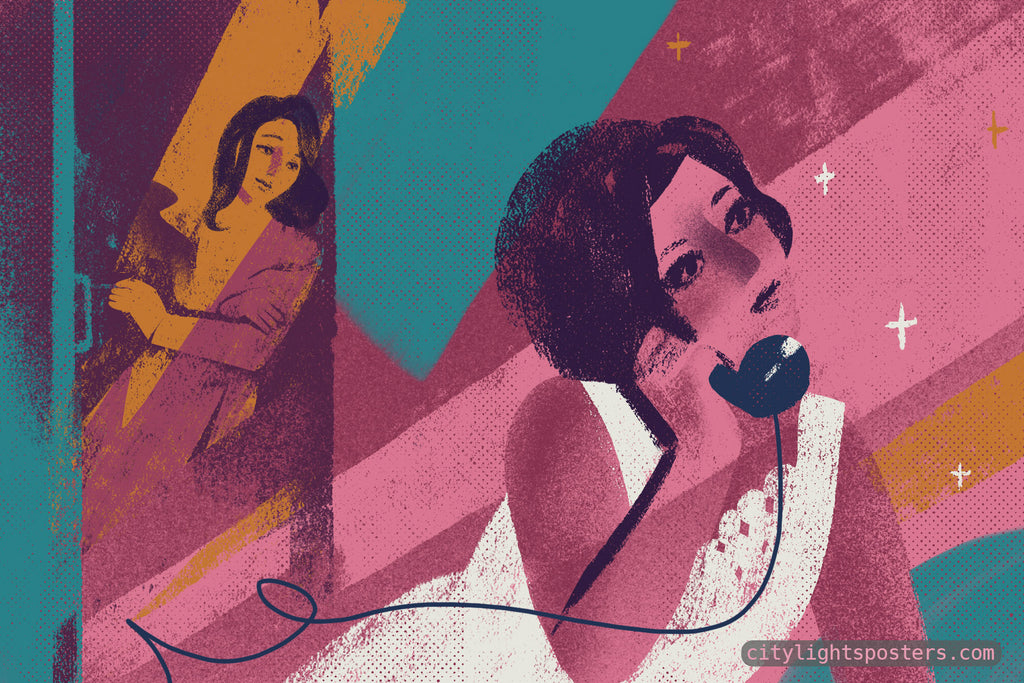 By Nour El Safoury
Between 1952 and 1980, over twenty films featuring a girl as the main protagonist were made. These films share similar elements, and although the plotline varies, the storyline follows a similar trajectory:  
A young, beautiful girl sets her eyes on a handsome young man. He usually reciprocates her love but obstacles stand in the way of their happy union. The film ends with the resolution of the problem that has prevented the couple's happiness, and by the end of the film an important (often moral) lesson is taught to the young couple, particularly to the girl.
 This narrative arc is characteristic of an unmarked category (perhaps even a genre) of films: The Girl Film. The Girl Film evolved following the 1952 coup and entered a revisionist phase by the 1970s. As Egypt was negotiating independence and dreams of a new society, the Girl Film reveals the anxieties and narratives surrounding the girl and girlhood in a fast changing society. Inspired by the list of posters in the City Lights Pink Dreams collection, I trace ten of the elements that contribute to establishing the Girl Film as a genre in Egyptian popular cinema.
Salwa (Magda) and Layla (Amal Farid) in Today's Girls (Henry Barakat, 1957)
1. The girl is the main protagonist in the Girl Film. Girlhood lies between childhood and womanhood: the girl is at the cusp of womanhood. This transitional space is terrifying for her father, mother, sometimes uncles and even professors; authority figures are challenged to respond to the girl's journey into womanhood.
17-Year-Old Girl (Kamal Ateyya, 1958) opens with Safaa (Zubaida Tharwat) turning 17. In the opening scene, she tells her friend Didi over the phone that she has become "a respectable woman who is 17 years and 12 hours old." Safaa can now attract the attention of men and is eligible for marriage.
Unlike the grown woman (married, or versed in the art of seduction), the girl is portrayed as naive in matters of romance, attraction and love. This is why she needs to be protected and causes such anxiety within her social circles. The girl is also assumed to be a more "controllable" version of femininity.
17-Year-Old Girl (Kamal Ateyya, 1958) film poster, designed by Abdulaziz
2. In some films, girlhood is established not only in relation to womanhood, but also to motherhood. In films like Good Morning, My Dear Wife (Abdelmonein Shoukry, 1969), The Illusions of Love (Mamdouh Shoukry, 1970), and I In His Eyes (Saad Arafa, 1978), there is an assumed prolonged girlhood in spite of the protagonist's recent marriage.
In Furnished Apartment (Hassan al-Emam, 1970) the humor stems from characters confusing the protagonists marital status and the film plays around with conceptions of girlhood vis-a-vis motherhood and womanhood. Zainab (Magda al-Khatib) has a child in her care and shares an apartment with Hussien (Ahmad Mazhar) in what seems like an accidental family unit, before marrying. When Hussien's father and fiancée visit, Zainab's status as girl is questioned. How Zainab and Hussien seem like a married couple but are not in fact a couple is the starting point of the film's many comedic scenes. 
3. The girl is neither sexually assertive nor manipulative. She is chaste, demure and a good daughter. This is often emphasized in contrast with the portrayal of other women in the film.
In 17-Year-Old Girl, Safaa is put in contrast with Batta, the stepmother of her best friend. Batta fools around, while Safaa does not even kiss Kamal (Ahmad Ramzy). In Today's Youth (Mahmoud Zulfikar, 1958), Fatheya (Mariam Fakhreldeen) dresses modestly and refuses to actively pursue men. In contrast, Nawal (Nareeman) wears revealing dresses and is a talented and enthusiastic seductress.
Today's Youth (Mahmoud Zulfikar, 1958) film poster, designed by Aziz
4. The girl is morally "good." Definitions of good morality change historically, but a recurrent feature of good morality is that she is not after her love interest's money.
In Seven Days in Paradise (Fateen Abdel Wehab, 1969), Karawan (Nagat) creates a rivalry between two friends, Youssef and Hussein, who are both attracted to her. Over the course of the film, she realizes her mistake. She does not marry Youssef, the rich man, even though she has an opportunity to do so. She sends Hussien (the man she truly loves) a letter telling him about her real life and quietly returns to being a street singer.
Similarly, Fatheya (Soad Hosny) is the epitome of goodness in Showgirl (Mahmoud Zulfikar, 1969). She embodies values such as kefah (perseverance) and honesty, both critically valued in post-defeat Egypt. Material disinterestedness is associated with the protagonist's good moral standing. As the genre enters its revisionist phase in the 1970s, the girl is no longer thoroughly good and her interest in money is a main narrative element through which her ambiguous morality is portrayed (Amal in I In His Eyes is an example).
5. Biological fathers are either dead, married to a stepmother, or overbearingly present. Note that the protagonist in the Girl Film always belongs to an unstable family, an instability that is often associated with the status of her biological father.
The overbearingly present father is a particularly interesting trope. In Girls' Secrets, Saniya's (Naglaa Fathy) father – a butcher – makes sure her skirt's hem is below the knee and that she wears a headscarf, as signs of modesty. In 17-Year-Old Girl, Safaa's father scolds her for not studying more. In Life Lovers (Helmy Halem, 1971), the father stops his daughter from bringing disgrace to the family name by marrying a man from a more humble background. The father in Girl Films is a disciplinary figure, ensuring she upholds prevailing social values and moral codes.
Girls' Secrets (Mahmoud Zulfikar, 1969) film poster, designed by Gassour
6. The mother assumes the role of finding her daughter a "good match." In The Wedding Night (Henry Barakat, 1966), Salwa's (Souad Hosny) father is dead. Her mother (Aqila Rateb) disapproves of Salwa's innocent summer love. She sets out to match her daughter with the respectable doctor who lives opposite to them. She feigns an illness to end their summer vacation early and then repeatedly pretends to fall ill to orchestrate the match between doctor Magdy (Ahmad Mazhar) and her daughter. Unlike the father figure, the mother enacts her guardianship by appealing to her daughter's emotions.
Salwa (Soad Hosny) in The Wedding Night (Henry Barakat, 1966)
7. The dynamic between the girl and her best friend(s) is also a feature of the Girl Film. Nawal (Shams El-Baroudi) is Salwa's best friend in The Wedding Night, and Asmaa is Safaa's best friend in 17-Year-Old Girl. The best friend serves to emphasize the superiority of the protagonist. She is less attractive and fails to draw the attention of her love interest. In Girls' Dreams (Youssef Maalouf, 1959), the rivalry between the three friends – Dorria, Hoda and Nahed – drives the narrative. The best friend is either inferior to the protagonist (morally and/or physically), or a rival.
Girls' Dreams (Youssef Maalouf, 1959) film poster, designed by Gassour
8. The Girl Film wields elements from both melodramas and musicals. Both genres are closely interlinked in Egyptian cinema; the musical is the genre of clandestine love affairs, particularly those that develop despite class differences. Melodrama is a film genre that is closely tied to bourgeois sensibility and often negotiating dominant moral laws and social values are central to melodramas. The Girl Film is a variation on both genres.
In Life Lovers, Ahmad (Muharram Fouad) is an up and coming singer and Mona (Nadia Lotfy) is an aristocrat who falls in love with him. Typically in musicals, the man falls in love with the girl; here Mona's love for Ahmad is presented first. Even though the Girl Film still carries a patriarchal sensibility and worldview, it emphasizes the desires and agency of the girl. The girl occupies the center of the narrative and her choices, often her acts of rebellion, propel the narrative forward. During her quintessential act of rebellion, when she runs away from her wedding, Mona is physically paralyzed to "rid her" of her rebellious spirit. She can no longer run away, both literally and figuratively.
9. The Girl Film centers on the protagonist finding "the good match." In Girl Films, the girl has to make a choice about who to marry. She is thrust on a romantic journey to make the right choice. The narrative unfolds as a result of others influencing this choice.
 In post-1952 Egypt, the Girl Film is a reflection of the social anxieties accompanying a state-backed modernization project. The modern girl makes her own choice of marriage partner. However, she is not trusted to make the right choice. She is educated through cinema about what a socially acceptable marriage is, and what a socially sanctioned partnership between a man and woman looks like. During this time, cinema plays a role in propagating modes of sexuality and love that are in line with a nationalist sensibility.
Amal (Mona Badr) in The Man of My Dreams (Helmy Raflah, 1957)
10. The elements and the meanings of the Girl Film evolve historically. From the mid to late 1970s, this genre enters a revisionist stage. We witness a new type of girl and a new mother suitable for the infitah era. They are morally neither naively good nor thoroughly bad, their conceptions of the "good match" center around money, they belong to a middle class that has been impoverished and marriage is no longer the desired happy ending.
In 1978, Amal (Naglaa Fathy) in I In His Eyes is hit by a car outside of school. The man who hit her, Adel (Mahmoud Abdel-aziz), financially looks after her and her mother following the accident. The film begins with Adel robbing Amal of her dream. Being a doctor is Amal's dream and ticket toward upward social mobility, but she misses her high school exams because of the accident. Failing in his attempts to seduce her, Adel proposes marriage. In I In His Eyes, Amal decides to marry the rich man and her mother, interestingly cast as Taheya Karioka, urges her young daughter to marry the man who can guarantee they will not end up in poverty.
I In His Eyes (Saad Arafa, 1978) film poster, designed by Gassour
During the 1980s, girls became sisters or love interests in the world of the main male protagonist. Film narratives that center around the girl as protagonist became rare. The years between 1952 and 1980 are the golden years of the Girl Film. Girls today continue to be present in narratives, but often rather as supporting characters to the male protagonist. As important as it is to ask why between the 1950 and 70s the social position of the girl inspired narratives and stories that center around her, it is also important to note how conceptions and portrayals of girlhood continue to evolve, beyond the category of the Girl Film, in cinema, television and songs. 
To see posters of some of the most famous and beloved Egyptian Girl Films, please visit the City Lights Pink Dreams collection.
---
Nour El Safoury is a film critic and editor who approaches bookmaking in an expanded sense and as it intersects with curatorial work. Her writing has been published in retrospective and exhibition catalogs. Nour holds a M.A. in Film Studies from King's College London and a B.A. from Johns Hopkins University. She is a member of the "Qaaf. Laam. Collective." Together with Shahd El Sabbagh, she runs Esmat—Publishing List and acts as its editor.
Subscribe to our newsletter to receive the latest latest blog updates, poster releases, and special offers.
Share this